01
Automated Data Collection
Streamline your information requests and directly receive data from portfolio company integrations.
02
Interactive Analytics
Access, aggregate, and analyze metrics to make data-driven decisions on new or follow-on investments.
03
Flexible Reporting
Align your team and LPs on the data that matters through beautifully designed tear sheets and reporting templates.
04
Portfolio Collaboration
Centralize and take action on investor updates and asks to add more value to your portfolio companies.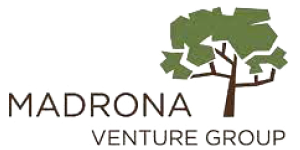 Analyze your data and engage with founders in real-time
Centralize health and performance metrics of your companies, enabling better decision-making and collaboration between all stakeholders.
Streamline your data collection with rule-based automation, 1-click workflows, and direct integrations to portfolio company systems of record.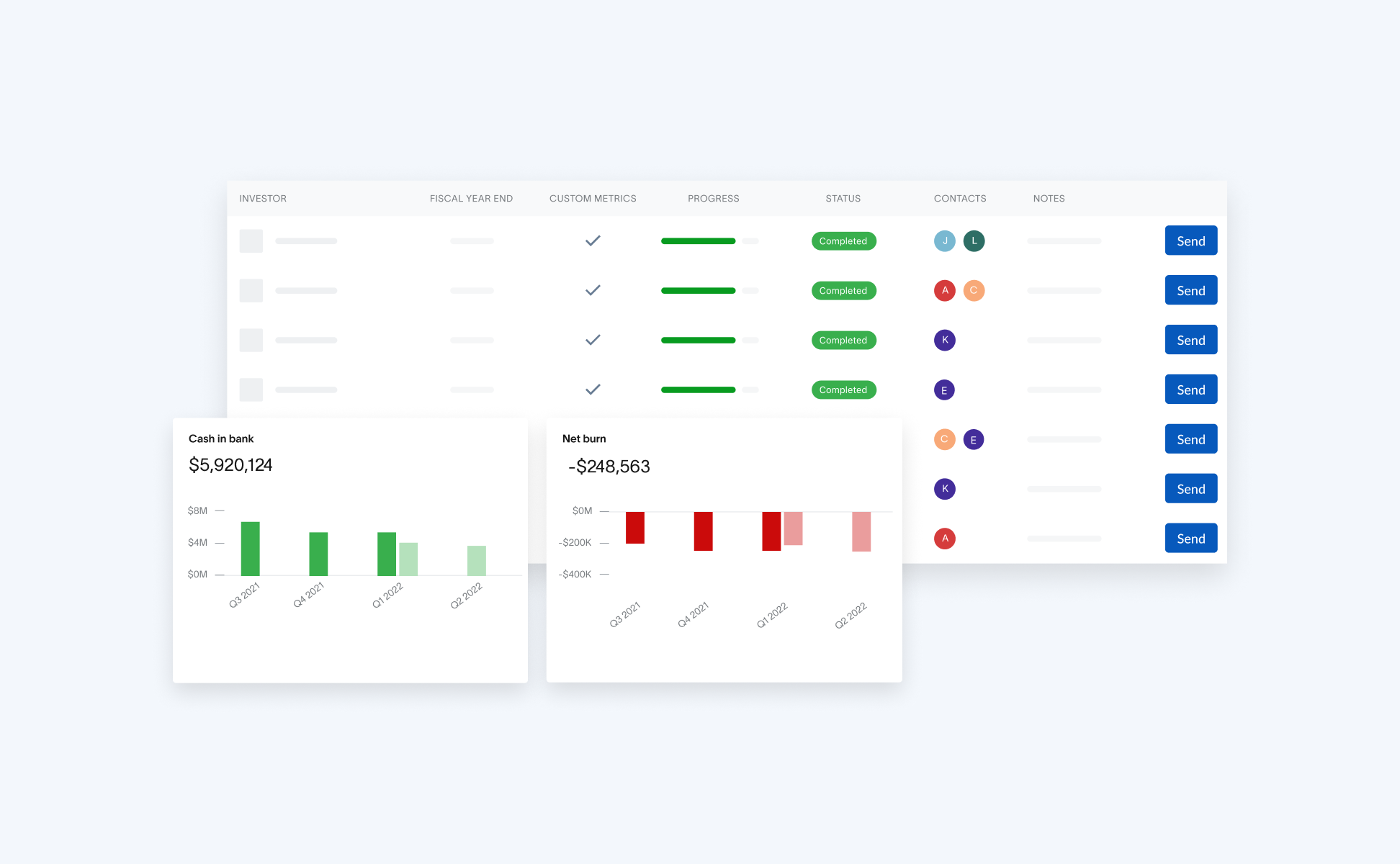 Provide powerful tooling to enable your portfolio companies to share data more easily and remove the friction from information requests.
Unlock deeper collaboration by connecting with all of your companies on a single platform, never losing track of metrics, updates, or asks.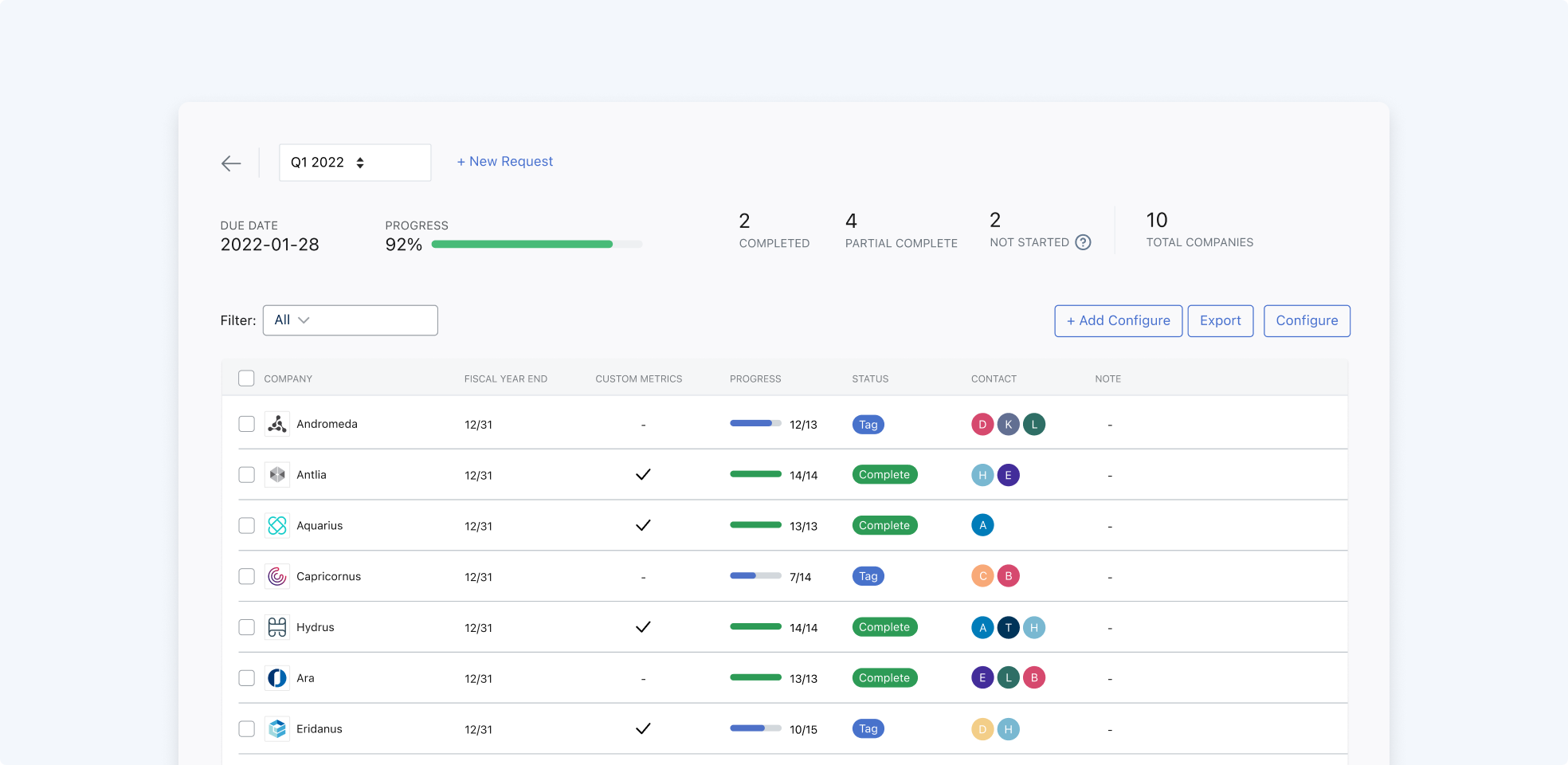 Automated Data Collection
01
Multiple flexible and powerful ways to ingest data
02
Direct data flow from portfolio company system integrations
03
Optional US-based managed data services team and board deck parsing
Portfolio & Fund Analytics
01
Quantitative and qualitative data on a single platform
02
Robust analytics on financial and operational metrics, and investment details
03
Auto-calculated gross and net metrics through automatically pulled cash flow data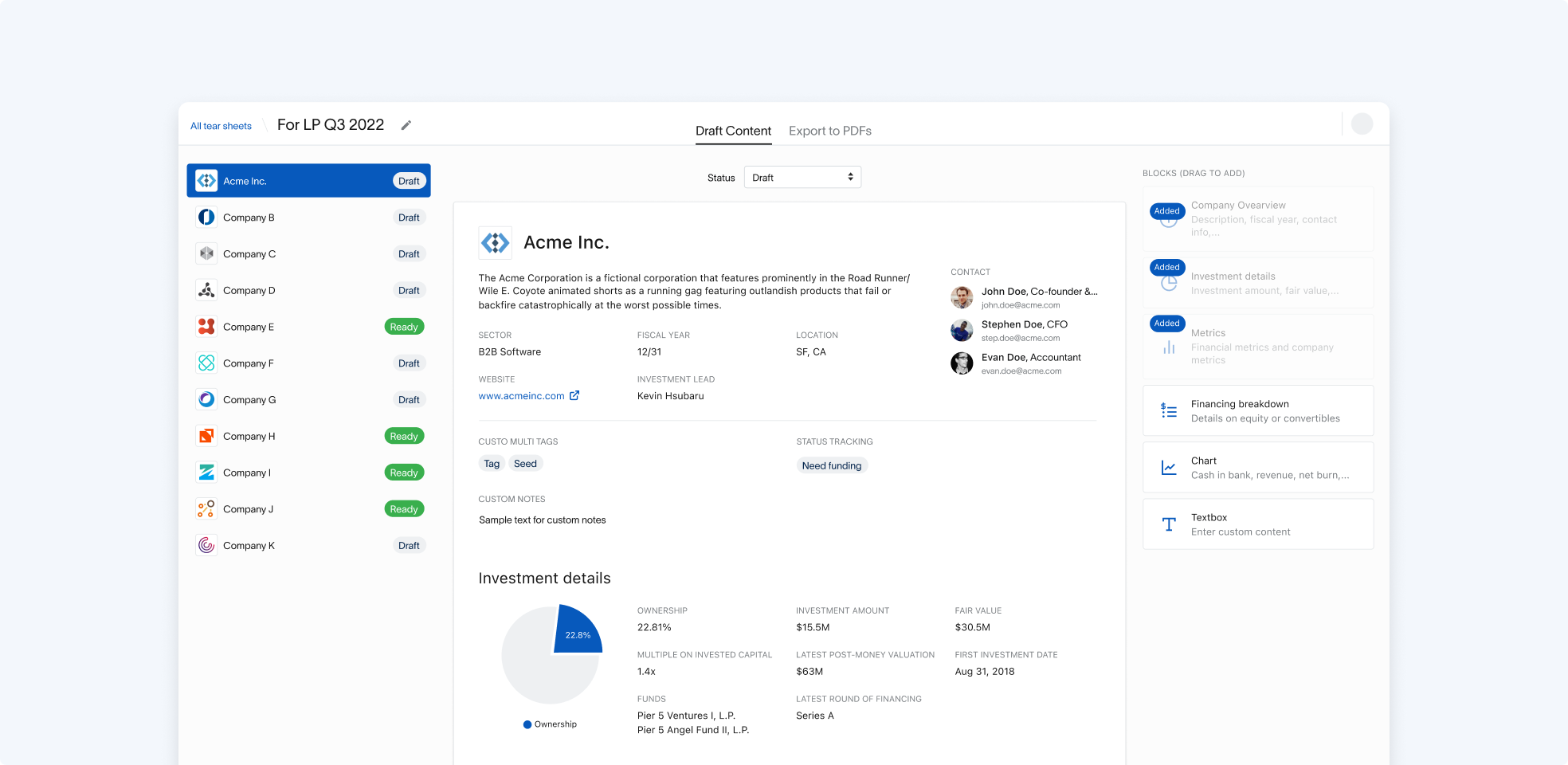 01
Powerful, flexible report builder
02
Customizable asset tear sheets
03
Recurring quarterly report templates such as SOI and portfolio runway reports
A complete experience for complex institutions
Valuations (ASC 820/IFRS 13)
Track all company valuations alongside the rest of your data for your quarterly auditing and reporting needs.
Real-Time FX Rates
Track your investments in native currencies and normalize to your universal currency without worry.
Document Management
Access all of your mission-critical documents from a central repository.
Data Security
Have peace of mind knowing that your data is following the highest industry standards, SOC 2 Type II.
Central Source of Truth
Ensure that you're always working on the latest, most complete dataset.
API
Connect Standard Metrics to all of your systems in the way you need.
Here's what our customers say about us
Standard Metrics allows us to collaborate as a team and engage with founders in real-time. It has completely eliminated the friction associated with company reporting and communication.
Standard Metrics streamlined the data collection process for our portfolio companies which allows us to focus our resources on portfolio analytics and make data-driven decisions.
We use Standard Metrics as our central source of truth to closely collaborate with our portfolio companies.
Efficient and effective portfolio management
Reach out today to understand how Standard Metrics can elevate your portfolio operations.